TV and Media Equipment Hire
From Loose Women to TOWIE, we've had a helping hand in creating some of the most memorable moments on TV and across the media. Creating truly bespoke projects to bring your vision to life, we work with you every step of the way providing quality equipment, professional staff and over 10 years experience. Contact us for the best tv and media equipment hire!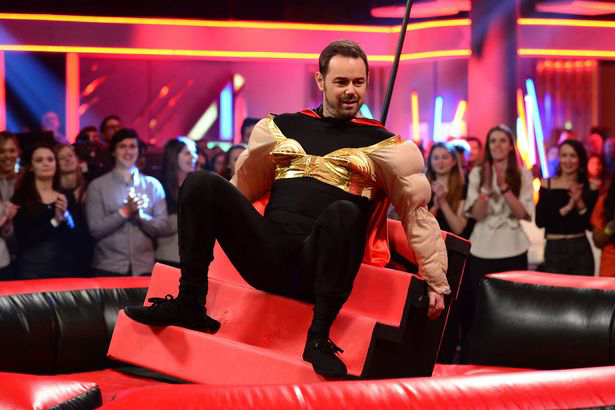 Alan Carr's New Year Spectacular
We were contacted by the production team of Alan Carr's Specstacular show to help recreate a classic moment of 2015, when Madonna fell backwards down a flight of stairs whilst on stage. Going along to the ITV studios (not for the first time) with our Rodeo base, we worked with the production team to make a staircase attachment which was safe but also would be able to fling TV stars Greg Davies and Danny Dyer around in true Madonna style. Everyone on the production team were delighted with how the game went and how much fun it added to the show.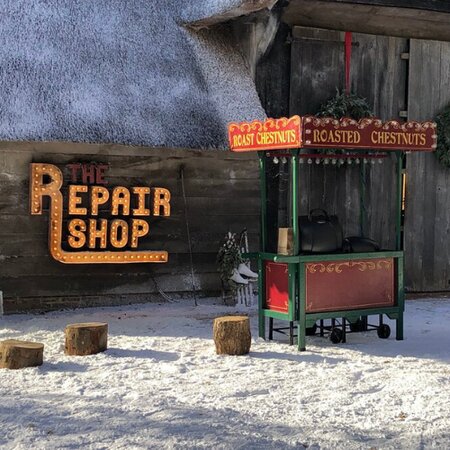 Our roast chestnut stall set the scene perfectly in this winter edition of The Repair Shop. This Christmas special saw some much loved items being repaired in time for Christmas including a 100 year old harmonium organ. The repaired items were then un-wrapped as Christmas presents before everyone on the show enjoyed some warm chestnuts served from our traditional stall.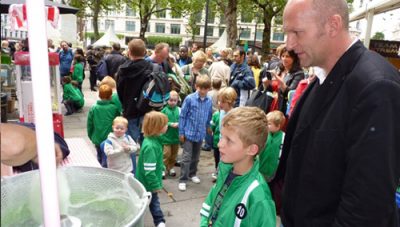 Taking over Leicester Square as part of the Cartoon Network series Ben 10 – we worked with the events team to provide green themed candyfloss, popcorn and slush for the duration of the event whilst providing quality service & meeting stars!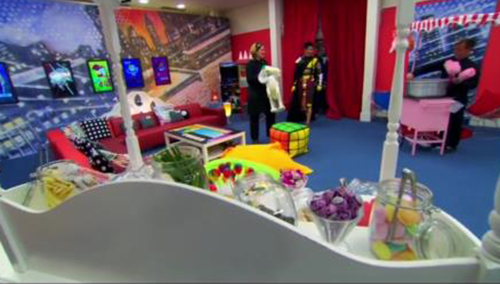 Directors of the UK version 'King of the Nerds' approached Leisure King with the need for great treats for winners of a challenge in an upcoming episode of the game show, so we provided our candyfloss machine, sweet cart and slush machines – sugar for champions!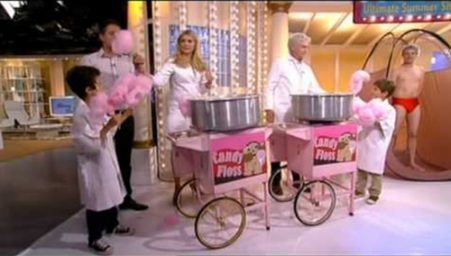 Live on ITV's This Morning, take a peek at watching Holly Wiloughby making sugary soft candyfloss using our Candyfloss machines! Completely unknown to Holly, Phillip had worked in a fairground during his youth – making candyfloss!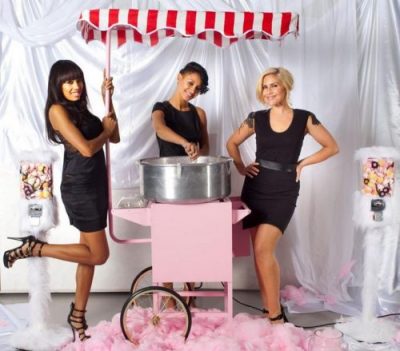 Working with the sugababes management team to understand the concept of their photoshoot, we provided the girls with our candyfloss machine to use as a prop and our expert staff to whip up batches of freshly spun candyfloss for the girls to use as props and even throw about! The results – tasty candyfloss and superb images!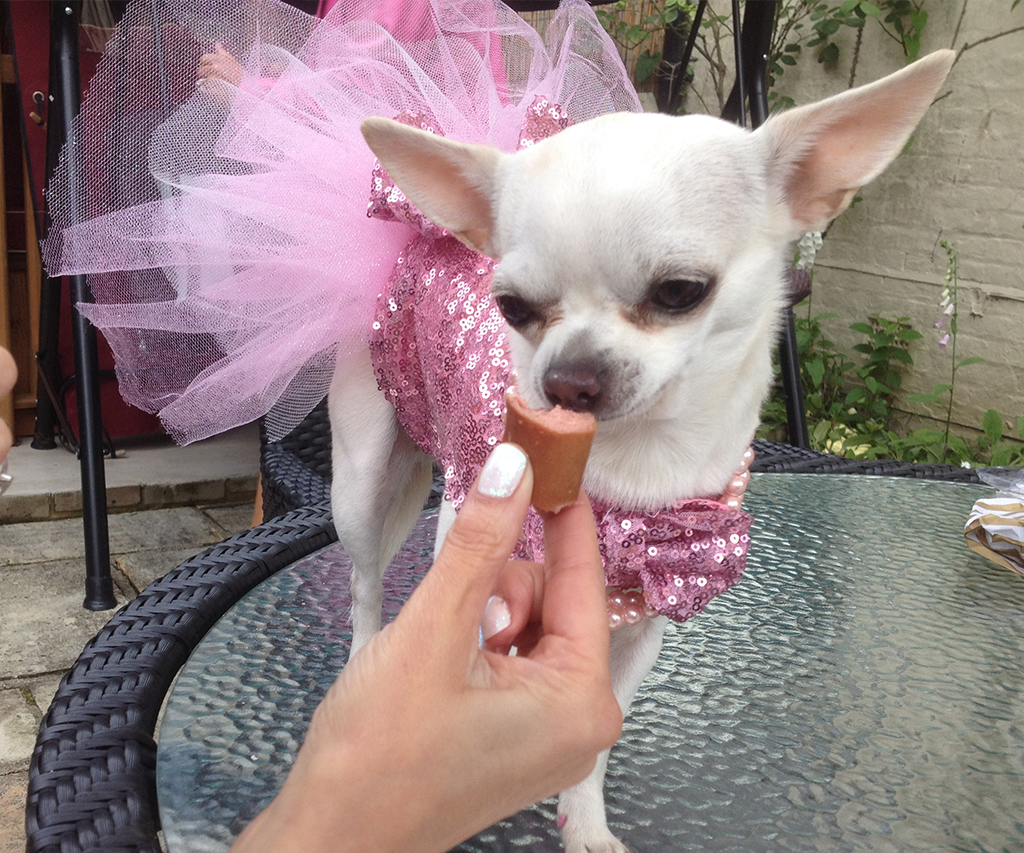 Secret Lives of Posh Pets
The secret life of posh pets – featuring Leisure King's very own hot dogs. The newlywed doggie couple loved their main meal on their wedding day, and we also provided hot dogs for the two legged guests too!
Popular Saturday night show Strictly Come Dancing featured our pick and mix stand for hire on their Halloween special. The pick and mix stand was rebranded 'Trick N Mix' and used as a prop for the dance between  Tilly Ramsay and dance partner Nikita Kuzmin.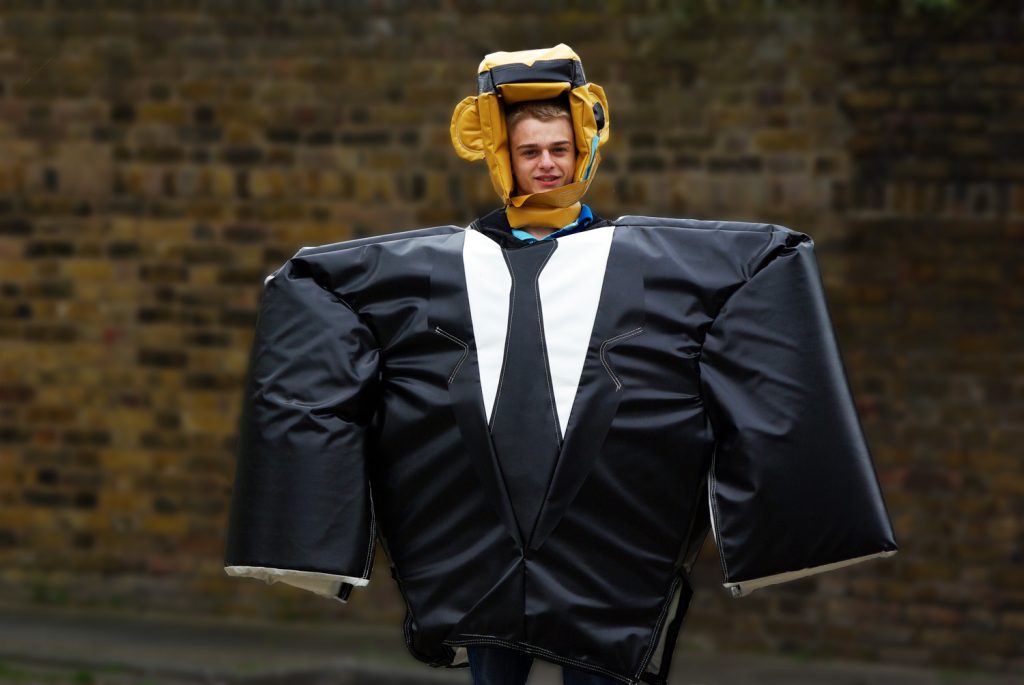 We custom made a sumo suit in the style of a London bouncer for hit musician and rapper Plan B. The custom made sumo wrestling suit was featured on his UK tour for the song 'stay too long'.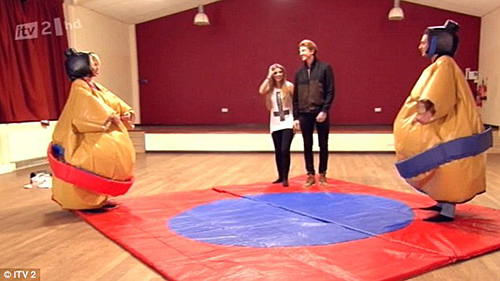 The Only Way Is Essex (TOWIE)
Reality TV show The Only Way Is Essex (TOWIE) hired a sumo suit set from us for their episode featuring a sumo match between Mario Falcone and Lucy Mecklenburgh. The pair  set up a sumo wrestling game as a way for Mario to apologise about the comments he made about Lydia.