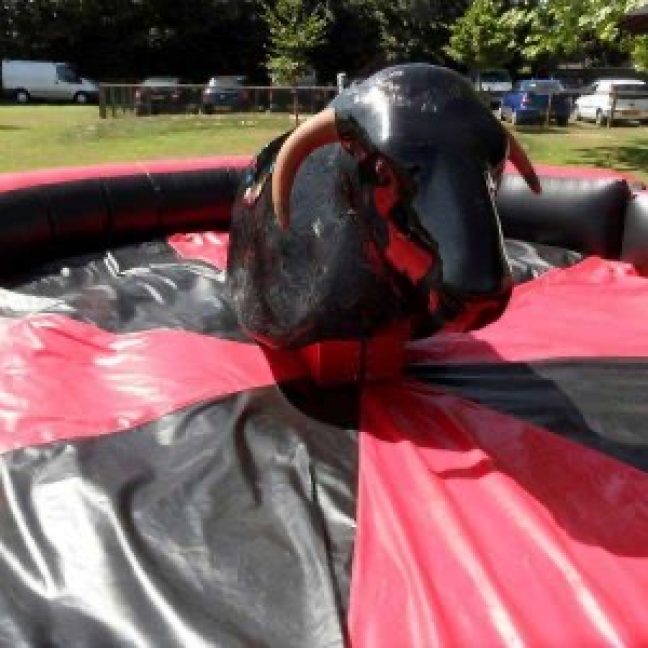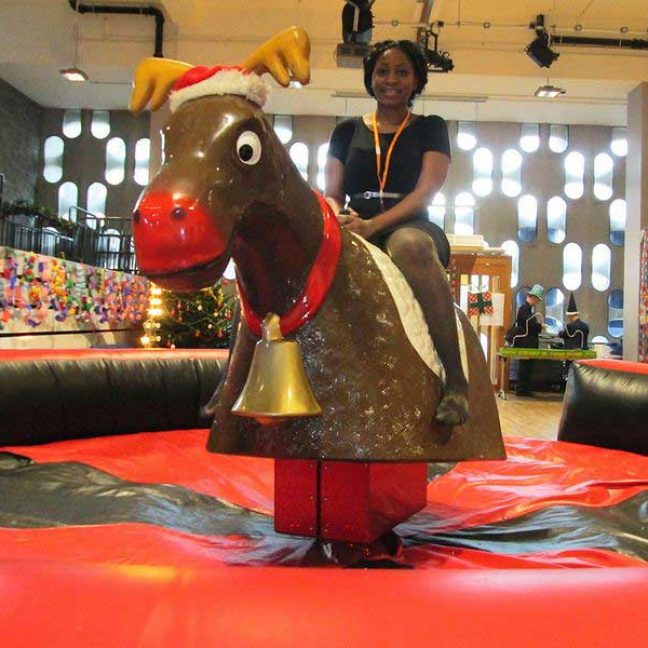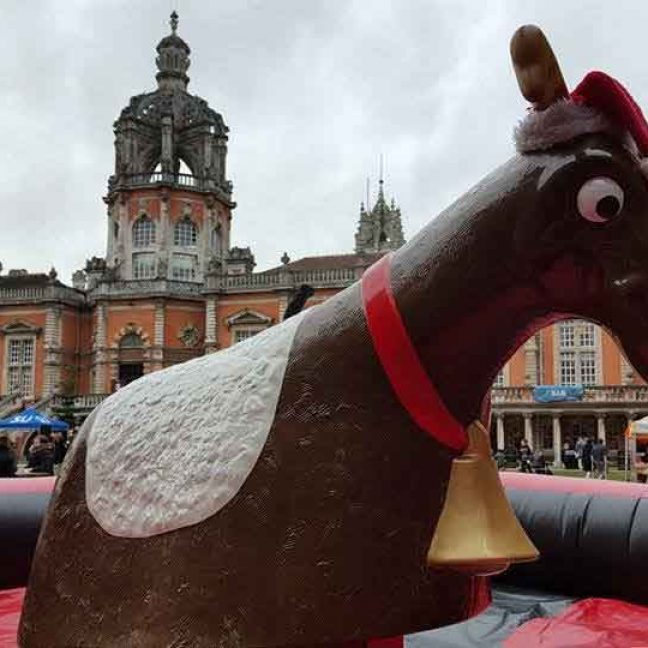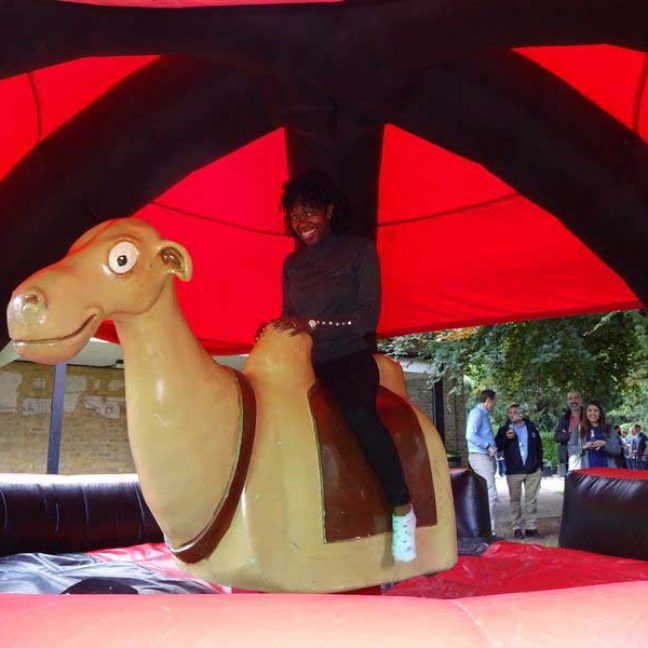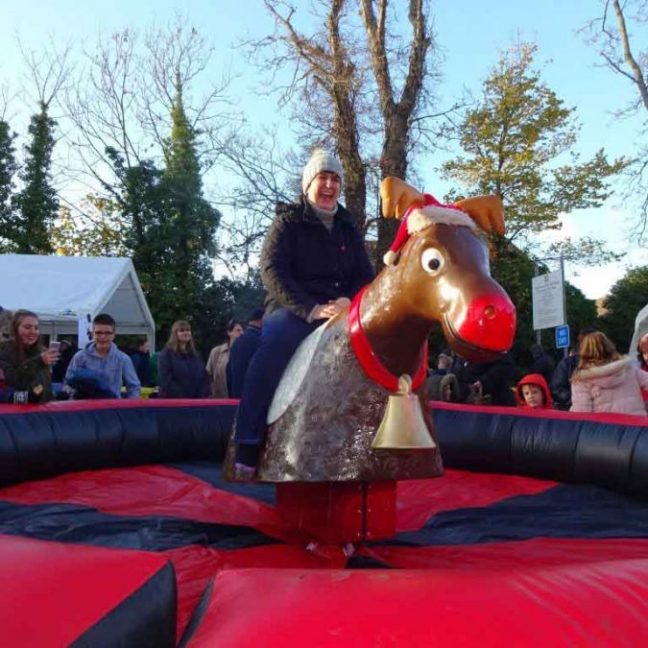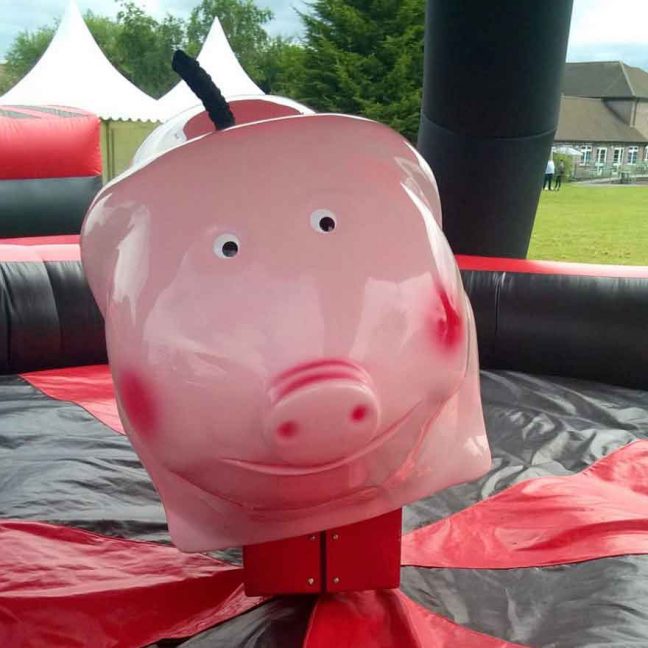 Our bucking bronco hire will create memories that will last a lifetime. We have a choice of five rodeos – the traditional bucking bronco, camel, pig, sheep or Ruldoph for a Christmas party.

Ages 10+ or 1.1m in height
Birthday Parties, Weddings, Corporate Events, Community Fetes, Student Events, Barn Dances, Christmas Weddings, Christmas Staff Parties, Student Christmas Events
Inside or Outside – any flat surface, free of debris (gravel, pebbles and sand).
Standard Electrical Power
Side Stalls, Bouncy Castles, Last Man Standing, Doughnuts, Mobile Bars, Hungry Hippos
Outside with marquee – 6.2m (w) X 9.2m (l)
Inside (no marquee) – 4.5m (w) X 9.2m (l) X 2.9m minimum ceiling height
Minimum doorway width clearance of 89cm
From £345 + VAT (3hr hire)
Rodeo bull hire rides are a truly exciting activity and attraction at any event. Be it a corporate event or a private party, it will leave your guests with memories to last them a lifetime. A bucking bronco hire is a popular option for corporate staff parties, community fetes and fairs and birthday parties. We have a rodeo to suit all occasions! We even have a bucking bronco reindeer for your Christmas party.
Our rodeos can be used inside or out. Each one comes with a large inflatable marquee as standard, in the event of wet or very hot weather when being hired for outdoor events. From the time of booking to the moment your event comes to an end, we offer friendly service and support. We handle everything to do with the rodeo ride including delivery, set-up, rides and collection. So you can enjoy your event, knowing your guests are safe in our hands.
Each rider hops onto the rodeo and grabs the rope; our operator will then start the rodeo at a slow, gentle speed. As the rider gains confidence, the speed increases! Our rodeos come with digital timers on our console to mark how long each rider lasts, so you can judge a winner and hold competitions!
Please note: The mechanical rodeo rides always come with a trained attendant as standard.
ACCESS RESTRICTIONS:
Doorway access minimum of 89cm
No stairs without prior consultation
Access nearby for transit van (equipment is very heavy and cannot be transferred over large distances)
If your venue will not allow pack-away until the end of the event, this must be agreed in advance
Minimum ceiling height of 2.9m, if inside
PLAYER RESTRICTIONS:
Not under the influence of alcohol of drugs
Fit and well with no injuries or illnesses that would prevent them from riding safely
No pregnant women
WHAT'S INCLUDED
Rodeo Bull hire (Sheep, Pig, Camel or Reindeer), inflatable base, blower
Inflatable marquee for outdoor bookings
All weather lighting provided for evening events
P.A system with music and microphone
Professional operator to run the ride (in cowboy costume if required)
Scoreboard and trophy for longest rider
An optional USB pf photographs taken of each rider (where possible) sent via Royal Mail
Delivery, set-up, pack-away and removal (within 20 miles or an additional delivery fee will apply)
OPTIONAL EXTRAS
Additional running hour £36 + VAT per hour
Get cups branded, create yor own pick an mix menu or photobooth background.,
If you want something special, just ask!
Take a look at some of our popular packages we've created or browse the site to create your own. When you see something you like, add it to your "favourites" then, when you are ready, head to our enquiry form and get in touch. We aim to get back to you within 4 working hours.
£750
Take a look at some of our popular event packages.