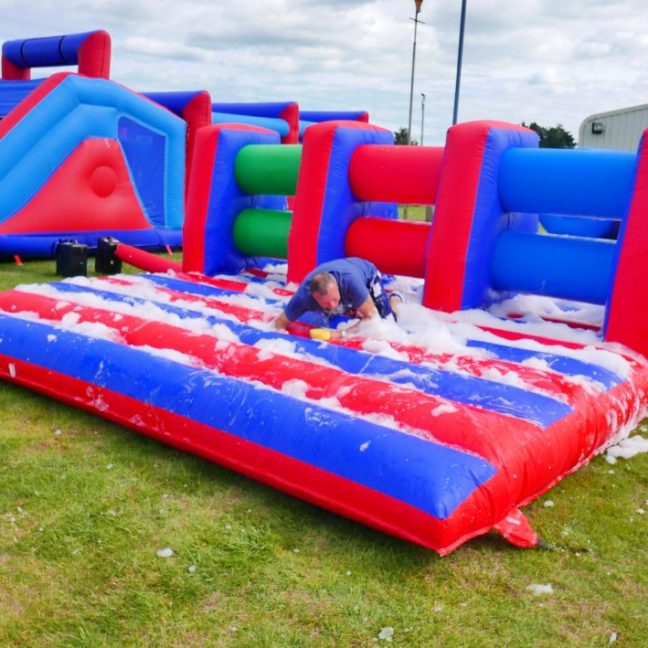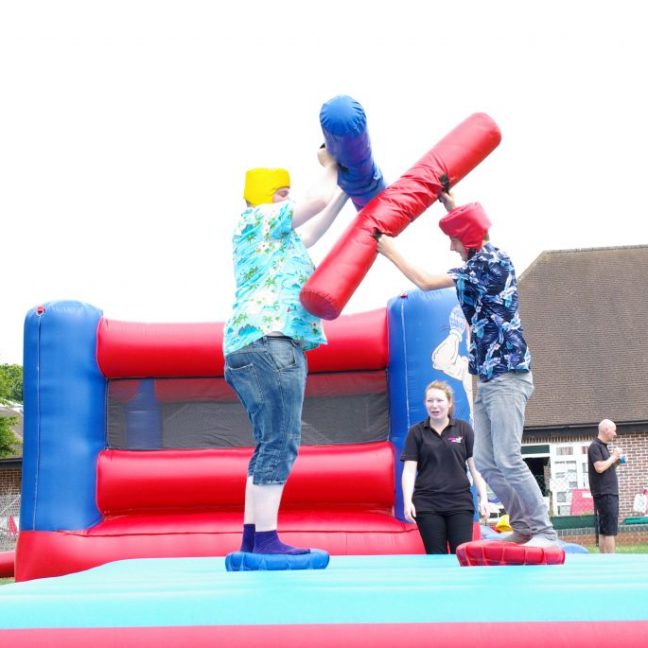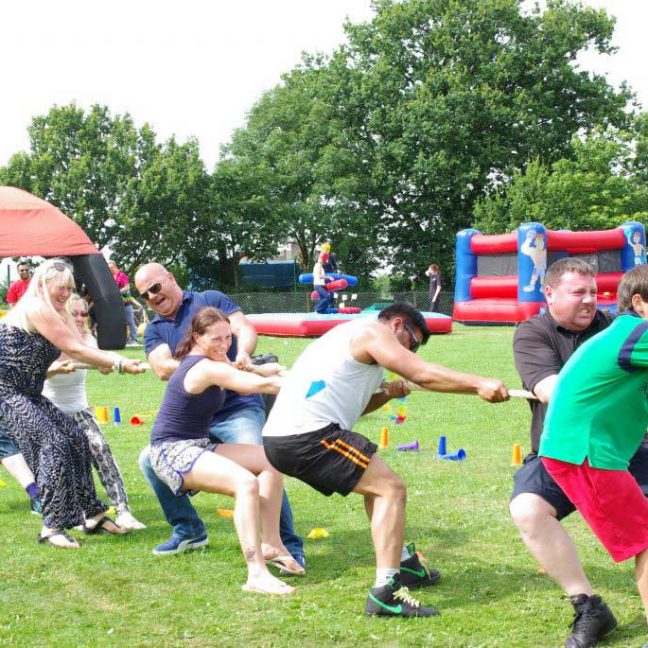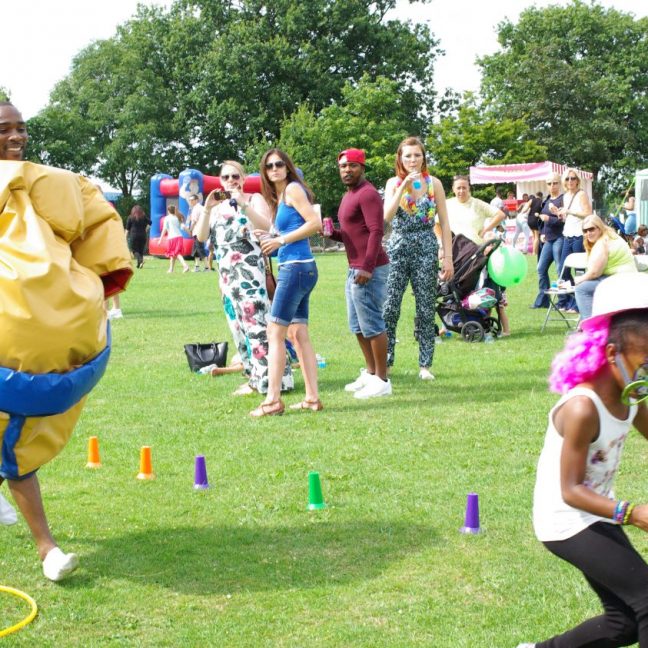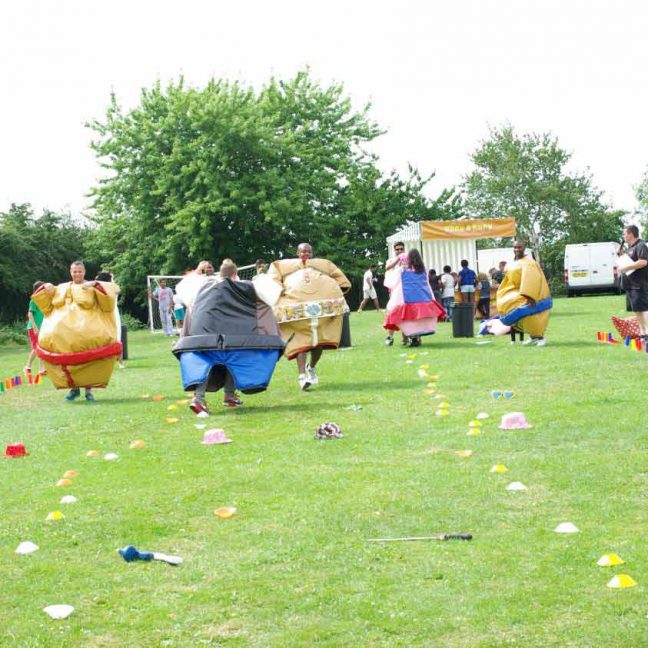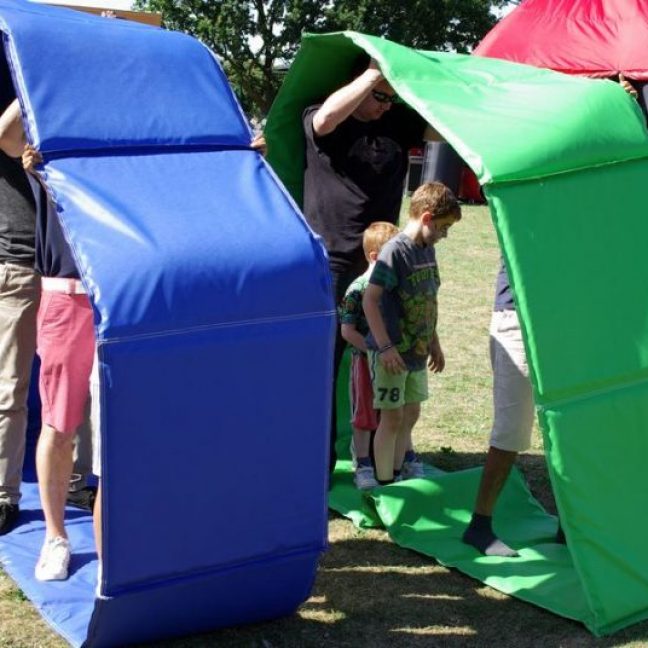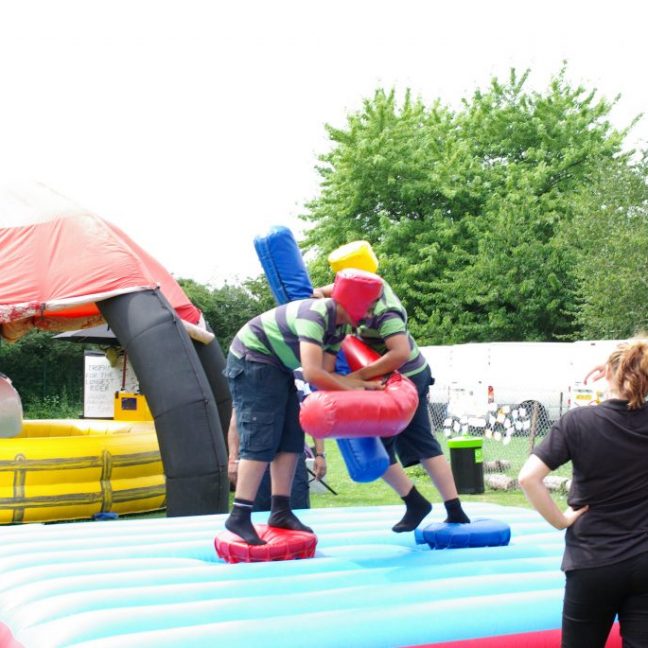 The perfect fun day, if you love a bit of competition that is! Indulge in some good old fashioned interactive play for those perfect Snapchat moments whilst you bump, run and shuffle your way through 8 games of inflatables, dress up and foamy resistance!

Adults – the games are designed for adult play. Although children and child-friendly events can be catered for, we will have to discuss this with you as a bespoke event.
Team Building and Corporate Events, Fun Days, Sports Days
Outside preferable – a back-up indoor venue must be available in circumstances of bad weather. If outdoors – grass is required with the area being flat and free from trees, dips and hills.
Standard electrical power and water. A qualified first aider in attendance.
Side Stalls, Rodeo Rides, Bouncy Boxing, Bungee Run, Archery, Hot Dogs
Working area of approximately 100ft x 200ft (35m x 70m)
A perfect fun day and a lot of face filter moments while you run, jump and bump your way through the It's A Knockout Challenge! Built up of 6-8 games of your choice ranging from inflatables, dress up to foamy tumble rolls and more, It's A Knockout offers everything you need for your players to release their inner child, get back to basics and indulge in interactive, outdoor play! Challenging in strength, agility, speed and teamwork, it's one of the best ways to reward your players or simply give them a desk job break for an afternoon!
With our experienced event staff on hand to guide teams with full support of each game throughout the event, you don't have to worry about running the course yourself! From initial discussion to the pre-event meeting and planning, our staff coordinate your day with you and assist at every stage so your event runs as smoothly as possible – including handling the necessary paperwork too.
We recommend that if choosing any wet games, that these are planned for the 2nd half of the session to avoid anyone getting cold feet.
WHAT'S INCLUDED
Approximately 2-2 ½  hour 'It's a Knockout' session – the minimum number of participants and teams will be ready agreed and any additional teams and members can be added prior to the event and charged accordingly – so you have flexibility up until the day of the event
6-8 fun games of your choice including inflatables, dressing up suits, props and accessories
Experienced Event Crew to run the session and assist guests throughout
Team Bibs and Winners medals
PA system and Scoreboard
Enclosed arena area with bunting
Pre-event meeting (at our offices) and event planning assistance
Public Liability insurance, risk assessments and the necessary H&S documentation required
Assistance with sourcing requirements such as venue location, power and first aid (see requirements listed below)
Delivery, set-up, pack-away and removal (within 20 miles or an additional delivery fee will apply)
REQUIREMENTS – Not included but needed prior to event:
You will need to have a venue, first aid support and power– if not, we can help you to find it!
Your venue will have to be able to supply water (particularly if selecting games that require a water source) – if this isn't available we can make all the games dry
Facilities such as catering, car parking assistance, toilet facilities and security for larger events
A spare change of clothes and a towel – for the wet games!
GAME SELECTION – Choose up to 6-8 games for your event. We recommend that if choosing any wet games, these are planned for the 2nd half of the session to avoid cold feet:
Dry Game Choices:
Penalty Shoot Out Hurdles
Barrel Egg and Spoon Challenge
Sumo Double Dress Up Dash
Caterpillar Crawl
Mega Ski Race
Tug-O-War
Limbo Challenge
Sumo Sprint (2 inflatables)
Dry or Wet Game Choices:
Barrel of Laughs
Cactus Hoopla Hurdles
Tangram Teaser
Wet Only Game Choices:
Water Bomb Catapult Challenge
Rise to the Challenge
Price stated from £1975 + VAT includes 2hrs running time with up to 8 games of your choice and up to 6 teams (6-10 players).
Get cups branded, create yor own pick an mix menu or photobooth background.,
If you want something special, just ask!
Take a look at some of our popular packages we've created or browse the site to create your own. When you see something you like, add it to your "favourites" then, when you are ready, head to our enquiry form and get in touch. We aim to get back to you within 4 working hours.
£750
Take a look at some of our popular event packages.